About Cosmetics Business
Cosmetics Business is the main cosmetics and personal care brand for HPCi Media Group who are a global information and publishing company. More information on HPCi Media can be found here.
Cosmetics Business provides both online and print media for professionals working in personal care, cosmetics and fragrance delivering information through the web, print publications, email newsletters and events.
CosmeticsBusiness.com
Updated daily and with global coverage, cosmeticsbusiness.com is produced by a team of experienced beauty industry journalists. All articles produced on cosmeticsbusiness.com.com are linked by sector, region and company allowing users to move across related content with ease. cosmeticsbusiness.com brings together all articles produced by the Cosmetics Business brand; these publications in print are: Soap, Perfumery & Cosmetics (SPC), European Cosmetic Markets (ECM), Cosmetic News Weekly. Cosmetics International and Soap, Perfumery & Cosmetics Asia (SPC Asia).
This mix makes cosmeticsbusiness.com an extremely powerful content platform while also delivering a comprehensive company industry directory, events diary and jobs board.
Cosmetics Business E-news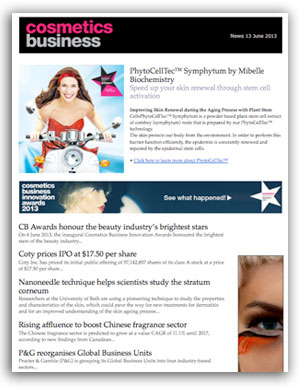 Sent by request to the desktops, tablets and internet-enabled mobile devices throughout the world, the Cosmetics Business newsletter delivers a digest of the week's most important cosmetics, toiletries and personal care industry news to professionals worldwide.
This easy-to-access format provides readers with a regular news update and access to related information found in the Cosmetics Business archive. Register for your FREE newsletter now.
Cosmetics Business Events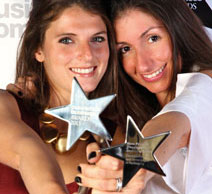 The Cosmetics Business Innovation Awards: a yearly event celebrating the industries' innovation in product, retail, brand and creative development with special focus on eco-sustainability and rising stars. Contact info@hpcimedia.com for more information on attending the awards and/or submitting an award entry for product. See what happened at the 2013 Awards
Cosmetics Business Publications in Print
Produced for professionals across the industry in all job functions including management, formulators, production specialists, marketing and retailers - click here for more details on the Cosmetics Business publications in print
Our Readership
| | EMEA | Asia | Americas | Australia |
| --- | --- | --- | --- | --- |
| Print | 61% | 17% | 20% | 2% |
| Newsletter | 53% | 21% | 24% | 2% |
| Website | 55% | 18% | 25% | 2% |