Clariant is one of the world's leading specialty chemical companies and offers a complete range of ingredients for the personal care market.
With a steadily expanding team of professionals, we are continuously growing and evolving, with a focus on skin and hair care, developing platforms for sustainable innovations and sensory solutions.
We create high performance, innovative products that are well tested in a range of formulations using state-of-the-art methods to bring true value to the Personal Care market. We have successfully introduced new products and concepts for all kinds of skin and hair care formulations. With laboratories and production facilities located in all regions of the world and Cosmetic GMP certification of our sites globally, we ensure that Clariant is a strong partner for successful projects in the Personal Care industry.
Uncover the Secret Code of Beauty!
With our Secret Code of Beauty, we use five complementary codes to create a portfolio of specialty ingredients for skin and hair care formulation.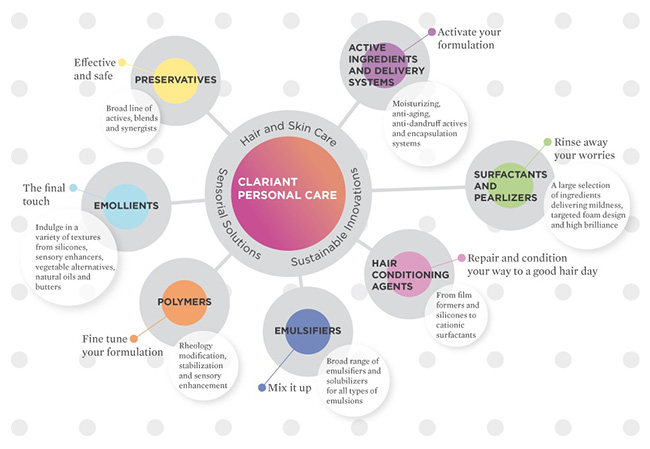 What's New:
GlucoTain® and Plantasens® Abyssinian Oil

GlucoTain is an innovative range of sugar-based surfactants offering sensory benefits through individual foam structures – from fluffy to rich – and light to caring conditioning levels. It creates new possibilities for formulators to go the next step in developing innovative products and platforms based on sulfate-free, CAPB-free and betaine-free formulations for a wide range of applications. In addition it addresses the consumer's desire for more natural and mild products with no compromise on cleansing properties.
GlucoTain is available in 4 products, all offering excellent compatibility with other ingredients: Clear, Clean, Flex and Care.

Filled with benefits only the African earth and sun make possible, Plantasens Abyssinian Oil lends brilliance to hair and nourishes skin without a greasy after feel. In addition, as a pure and natural ingredient that carries Clariant's sustainability EcoTain® label, Plantasens Abyssinian Oil has a strong environmental and social profile.
Advantages:
Provide shine and improve manageability of hair
Nourish, hydrate and protect the skin
More easily formulate sun care products
Gain a sustainable advantage
Major Products:
• Active Ingredients (moisturising, anti-ageing, anti dandruff, anti perspirant, etc.)
Octopirox® , Locron®
• Emollients (natural alternatives to silicone, lanolin & petrolatum; natural butters & oils)
Plantasens®
• Emulsifiers (broad range for all types of emulsions, including natural emulsifiers)
Hostacerin®, Hostaphat®, Plantasens®
• Hair Conditioning Agents (from film formers to silicones to cationic surfactants)
Genamin®, SilCare®
• Pearlisers (cold processable, liquid pearling concentrate)
Perlogen®
• Polymers (rheology modifications, stabilisation and sensory enhancement)
Aristoflex®
• Preservatives (broad line of actives, synergists and blends)
Phenonip®, Nipaguard®, Nipagin®, Nipasept®, Velsan® SC
• Surfactants (large selection delivering mildness and targeted foam design)
Glucotain®, Genagen®, Hostapon®
GlucoTain; Plantasens; Velsan; Octopirox; Locron; Hostacerin; Hostaphat; Genamin; Silcare; Perlogen; Aristoflex; Phenonip; Nipaguard; Nipagin; Nipasept; Genagen; Hostapon.